CCTV Drain Inspection
Here at Apex Vacuum Gutter Cleaning, we're experts in a variety of non-invasive solutions. From our high-pressure vacuums, to our non-destructive digging, or CCTV drain inspections, you can count on us to find a straightforward solution for you.
CCTV drain inspections allow us to pinpoint the source of an issue, so that we can efficiently and accurately remove damaged sections of drainage pipe, or to clear tree root blockages without disturbing other areas of ground, or of the drainage system.
Using CCTV inspection allows us to provide you with better feedback as well. We can show you the footage or the photos, so that you have a better idea of potential problem areas, and know what to look out for. You will also have a clearer picture of the past and current condition of your drainage system.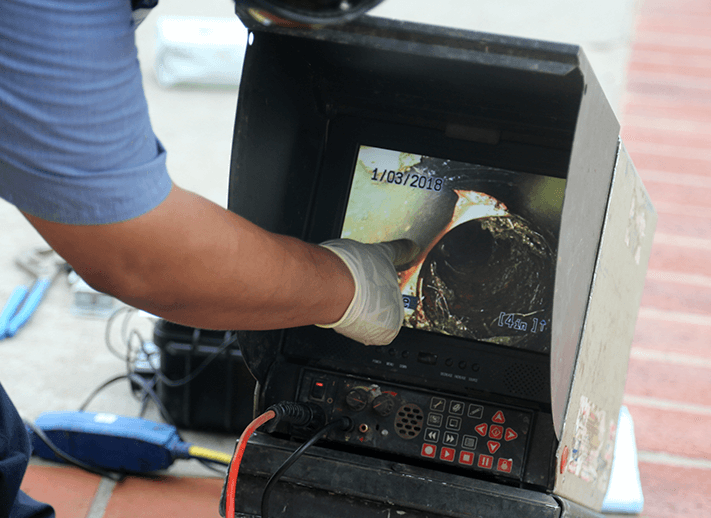 CCTV Drain Inspections from Your Local Experts
Apex Vacuum Gutter Cleaning is a family owned and operated business, with over twelve years of industry experience. We use the latest equipment and techniques, and ensure that our team engage in regular training, as well as the 'toolbox talks' that help manage team safety, while also meaning our valued customers get the best service possible.
We are only ever a phone call away, so if you need gutter cleaning or drain maintenance from a team nearby, you can count on us for a prompt response. We would be more than happy to provide a quote for your industrial site, owners' corporation, your school, or your home.
Providing CCTV Drain Inspections throughout Victoria
You can call on our team at any time. Whether it's time for a thorough gutter cleaning, and you would like to hire a team who can inspect downpipes and drainage systems as well, or whether a blocked drainage system is already causing you headaches, you can call on Apex Vacuum Gutter Cleaning.
To find out more about our services, including drain cleaning, gutter cleaning, non-destructive digging, and CCTV drain inspections, simply call, or email the team today.