Drain Cleaning Melbourne
While we are carrying out the gutter cleaning at commercial, government, or residential properties, we can also offer the drain cleaning Melbourne locals require. Once we have cleaned the roof guttering, we can ensure that the downpipes, ground drainage systems, and stormwater drains are completely free of debris and pooled water as well.
We have the equipment and the experience necessary to provide a professional clean. Our high-volume vacuum cleaners combined with our trucks' high pressure drain cleaning jet attachments allow us to clean out stormwater drains with ease.
To clear blockages caused by a range of issues, including simple debris build up, and extensive tree root invasion, we carry a wide range of drain cleaning nozzles, so that we always have the right equipment on site.
In order to provide further diagnostics on any drainage faults you're experiencing, we can inspect the system with a drain camera that provides clear imagery, allowing us to accurately locate the source of the problem. If you would like to see photos or video footage of the condition of the drains before or after, then we can provide you with the stills or footage.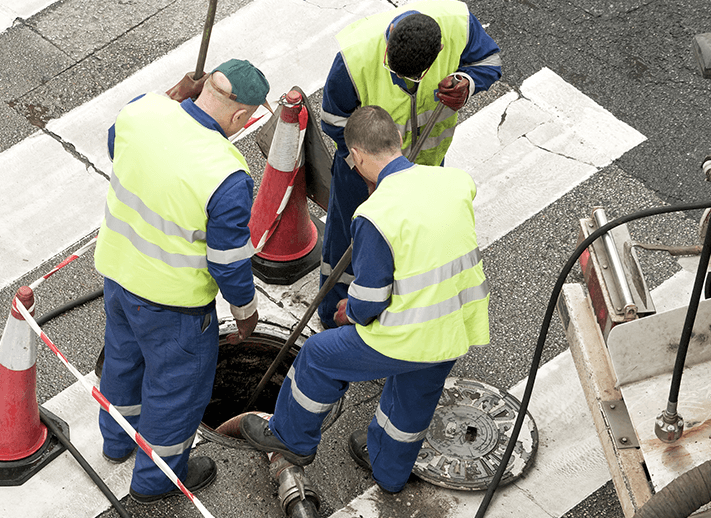 Here at Apex Vacuum Gutter Cleaning, we have the experts in blocked drains Melbourne locals need. We locate and clear the cause of any blockage before further damage can occur, so that you're not left cleaning up the messy and potentially hazardous results of an overflowing drain or burst pipe.
We offer exceptional customer service when working with owners' corporations, public and private schools, local councils, commercial, industrial, and residential clients. We work efficiently, and with the attention to detail that provides you with the best outcome, every time.
When they require experts for gutter and drain cleaning, Melbourne customers can count on us. We have been in business for over twelve years, and we bring this wealth of experience and knowledge to every job.
Our team can carry out minor repairs, but believe in providing preventative maintenance so that this isn't necessary as often. By clearing out guttering, downpipes, and drains, we prevent the build up of debris, and detect issues like root invasion before they can cause significant damage.
Clearing Blocked Drains in Melbourne and the Nearby Suburbs
Whether we're clearing out the gutters, or a stormwater drain, you can count on the team from Apex Vacuum Gutter Cleaning to perform a thorough and efficient job every time.
If it has been raining heavily, then it doesn't take long for a blocked downpipe or stormwater drain to turn from a minor inconvenience into a major problem. When they need help with blocked drains, Melbourne locals can call on us for a comprehensive solution.
Whether you would like our team to provide regular drain and gutter maintenance at your school or workplace, or you have an emergency situation that needs a solution fast, you can rely on the Apex Vacuum Gutter Cleaning team.
Wherever the problem is, we can help to find the solution that you need. If a constantly overflowing stormwater drain (or any other drainage system) has defied explanation, then we can use our drain cameras to inspect, and to find the root cause of the issue.
When we do locate the source of the blocked drain, Melbourne customers can count on us to set about fixing the issue. We will always use the right equipment and techniques so that we avoid further damage. Once the drain is clear, another camera inspection can confirm that everything is draining freely and functioning as it should.