Our family owned business has been a go-to name for comprehensive and cost-effective roof cleaning services for more than 12 years, with our team providing unbeatable results to countless customers in that time.
No matter how big or demanding the job might be, our team is always there to offer a proven and professional service that will leave any roof looking as good as new. Give us a call today to learn more, or arrange a roof cleaning service from our expert team.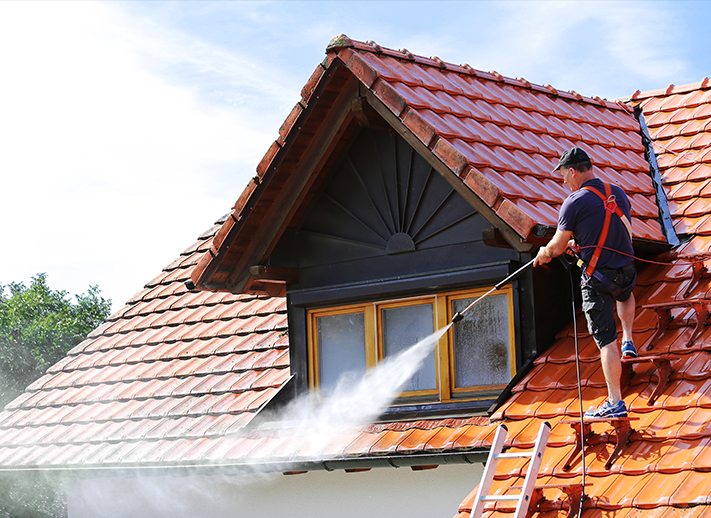 Request
Your Roof Cleaning Service
Our team uses the very best equipment available to ensure we can always deliver an efficient, straightforward, and hassle-free service to our customers. High pressure cleaning ensures a thorough clean and can get rid of even the most stubborn dirt and grime that has built up over the years. Customers never have to worry about being left with a mess, as our team will make sure that all waste is collected and properly disposed of.
Leading Roof Pressure Cleaning Solutions in Melbourne
Thanks to our roof pressure cleaning services, Melbourne customers can enjoy lasting value for money and unbeatable results.

Not only will our team be able to make your roof look better, our pressure cleaning solutions may even help to save you time and money down the line. The dirt and grime that can collect on any roof might not seem like a big issue, but over time it can compromise the structure of the roof, while removing it reduces the likelihood that an in-depth repair or replacement service will be required in the future.
For all further enquiries, simply give us a call today on 0410 614 924.
Fully Insured
& Licensed

Guaranteed
Quality Service

Up-to-date equipment
& cleaning methods

Biggest Gutter Cleaning
Truck in Melbourne